Introduction:
Buckmint is a ReFi (Regenerative Finance) startup, working at the intersection of ClimateTech, Fintech and Web3.0 to build decentralised solutions for Climate Infrastructure. Beginning with carbon trading, Buckmint uses blockchain technology to make carbon credits more accessible and efficient. They do this by tokenizing carbon credits, which means turning them into digital assets that can be traded on a blockchain network. This makes it easier for companies and individuals to buy and sell carbon credits, and it also helps to create a more liquid market for carbon credits. Leveraging blockchain technology, Buckmint is paving the way for global credit sellers to access broader markets.
Traditional carbon credits have faced issues such as illiquidity, the absence of price benchmarks, and concerns about double spending or counting, particularly impacting investors. To combat these problems, Buckmint has introduced a novel approach by tokenizing carbon credits on energy-efficient blockchains, thereby enabling anyone to participate in carbon credit trading.
In the system created by Buckmint, ownership of carbon credits is securely transferred to a third-party Special Purpose Vehicle (SPV), functioning much like an escrow account. This strategic move effectively eliminates the risk of double counting, providing clarity and trust in the market. Buckmint is currently working with prominent carbon registry VERRA. They also have plans to inculcate American Carbon Registry and Gold Standard Carbon credits in their ecosystem soon.
Buckmint has taken the initiative to tokenize carbon credits in real-time, ensuring that credits remain unretired and verified throughout the process. This innovative approach is facilitated on the blockchain network, enhancing efficiency and reducing environmental impact.
There is a lot of untapped capital that is yet to be channelized towards green and renewable projects. For this, they are also building a decentralised exchange for buyers and sellers to transact tokenized carbon credits directly with each other. This will not only involve buyers and sellers of carbon credits but also increase the participation of traders, particularly retail and institutional investors, in the carbon markets.
It's important to note that Buckmint has launched the tokenization aspect along with the marketplace, with buying and selling activities occurring on this marketplace. Soon they will open the trading for retail and institutional investors on their decentralised exchange (DEX). However, Buckmint plays a crucial role in the end-to-end process. When a buyer decides to retire specific carbon credits, Buckmint initiates communication with the carbon registry, ultimately releasing the tokens from the escrow account. Importantly, there is regulatory oversight to ensure that only active, non-retired carbon credits are tokenized, preventing the tokenization of retired credits.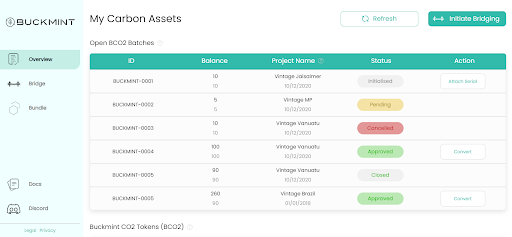 Shaurya Chauhan, Mayank Chauhan, and Ram Verma possess the requisite expertise and acumen to effectively tackle the challenges confronting the Carbon Credits Industry. Shaurya Chauhan is an Computer Science & Engineering (CSE) graduate who worked as a Data Scientist. He has deep expertise in Product Development, Strategy & Finances. Mayank Chauhan is a business graduate, specialised in Marketing & Research.  He brings substantial experience in operations and business development. Before Buckmint, Mayank and Shaurya together founded Glyde, a platform dedicated to Micro-Mobility, as their previous stint. Ram Verma has pursued Computer Science and Engineering. His expertise predominantly centers around technology, with a notable track record in blockchain. Having crafted numerous web 3.0 solutions in the past, Ram is currently leading the technology at Buckmint.Their collaborative effort blends technological prowess with a deep commitment to sustainability, building decentralised solutions for climate infrastructure.
Market Opportunity:
The Institute of International Finance (IIF) with knowledge support from McKinsey, estimates that demand for carbon credits could increase by a factor of 15 or more by 2030 and by a factor of up to 100 by 2050. Overall, the market for carbon credits could be worth upward of $50 billion in 2030. The voluntary carbon market continues to play a critical role in that transition by helping to channel funding into projects that reduce carbon emissions or remove carbon from the atmosphere. The growth of the market is being driven by factors like increasing demand for carbon credits from industries for compliance purposes that are looking to reduce their emissions.
100X.VC Thesis:
The Carbon Credits market is expanding rapidly, with heavy demand for purchase of credits. However matchmaking demand and supply, at the right price is a very inefficient process. Buckmint is tapping into this massive opportunity and streamlining the process by market-making on chains. By building this on the blockchain, they open up global markets for credit buyers, sellers and traders. The team is driven, technical and knowledgeable in the space. 100X.VC believes this is an opportunity to create the biggest carbon credit exchange.
Conclusion:
Buckmint's approach to tokenizing carbon credits on an energy-efficient blockchain, and creating a dedicated decentralised exchange for trading carbon credits in conjunction with strategic partnerships and robust regulatory compliance, addresses pressing issues in the carbon credits market, offering a promising solution for both investors and the environment. Overall, the market is bound to grow with the increasing needs by organisations to offset carbon emissions. Shaurya, Ram and Mayank are a great team to execute the revolution in carbon credits space