The stage was set, the energy was high, and the National Incubation Conclave (NIC) was off to an incredible start on May 19th, 2023! 100X.VC has been at the forefront of investing aggressively in early stage startups across India - with a mission to deploy capital in 100 startups per year. 
With 11% of our total portfolio startups coming out of incubators, we have always felt that there is more which needs to be done at the ground level. A capacity building exercise for incubators - where key attributes of which startup, what kind of founder and the stage at which we invest at - was a requirement, need and a much overdue exercise!
In collaboration with AIC RMP - who agreed to host the National Incubators Conclave - Paathshaala - which brought together incubator CEOs and portfolio investment leads, we shared our methodology of identifying winners. The goal? Equipping these incubation superheroes with the insights they need to manage and evaluate high-growth startups. 
With support extended by Startup India, Niti Aayog and Atal Innovation Mission, 100X.VC is delighted to have spent two days with 20+ Incubators across India. Hungry for both - insights and knowledge, participants indulged in collaborating over various aspects of building a successful Incubation Centre.

Let's dive into the exciting highlights that left participants buzzing with enthusiasm!
Day 1: Welcome Address and Philosophy:
Mr. Jai Mrug, the Director of AIC-RMP, and Mr. Uday Wankawala, the CEO of AIC-RMP, set the stage with their warm and inspiring welcome address. They unveiled the secret sauce behind AIC-RMP's success—a philosophy rooted in fostering entrepreneurial growth and innovation.
Afternoon Session: 
Kicked off with Diksha Nigam, Senior Manager at Invest India, Shashank Randev, Founder VC and Co-Founder 100X.VC, Jai Murg,  and Uday Wankawala took the stage, injecting the room with electrifying energy. The virtual presence of Mr. Rohit Gupta, Program Lead, Niti Aayog added to the Government's vision of backing and empowering Incubation Centres across the country.
Deep Dive into 100X.VC:
Shashank Randev took centre stage to dive deep into 100X.VC's vision of investing in 100 companies per year. He revealed the funds approach, the Class application process, post-selection journey, and speed methodology of investing via iSAFE Notes. 
Distribution and Branding:
Vatsal Kanakiya, Principal and CTO, 100X.VC, enlightened the audience on the importance of distribution, branding and digital presence for incubators. Additionally covered, sourcing and attracting young startups to join incubation centres.
Learning Activity and Case Studies:
The real magic began as a hands-on learning activity unfolded, immersing participants in the world of startup investments. Through captivating case studies, four sectors—Saas, Gen AI, Healthcare, and Sustainability—were explored in depth. The participants played the role of evaluators and decided whether they would invest or not. The activity featured both invested and non-invested startups of 100X.VC, providing a comprehensive learning.
Vatsal along with Ketki, co-founder of BHyve (one of 100X.VC's portfolio companies and an incubatee of AIC RMP), initiated the sector-specific discussions, starting with SaaS Case studies. Vatsal took the discussion ahead with Generative AI-based case studies. Shashank then presented the Healthcare and Sustainability-based case studies. The incubator CEOs and investment leads actively participated in these discussions, sharing their expertise and viewpoints, and collectively evaluating the startups' potential.
Conclusion:
Day 1 of the National Incubation Conclave demystified many concepts on sourcing, selection, deal flow management, portfolio management, and effective evaluation of high-growth startups. 

Day 2 (20th May)
Keynote Talk:
The day began with a blast as Diksha, Senior Manager at Invest India, took the stage to deliver an insightful keynote talk. She transported the audience through the inspiring journey of Startup India, unveiling the remarkable Startup India Seed Fund Scheme (SISFS). Diksha also shared insights into the program's scouting, partnerships, and facilitation support to incubators. Dr. Jayant Kulkarni, the Executive Director of RMP, followed up with a discussion on RMP's philosophy and new initiatives.
Special Interaction:
Surprise guest added the extra energy, boosting everyone's spirit. Chintan Vaishnav, Chair of the Startup 20 Engagement Group under G20 India Presidency, GOI, joined virtually for a special interaction. The incubators were thrilled to engage, gaining unique perspectives on building new Digital India and Bharat.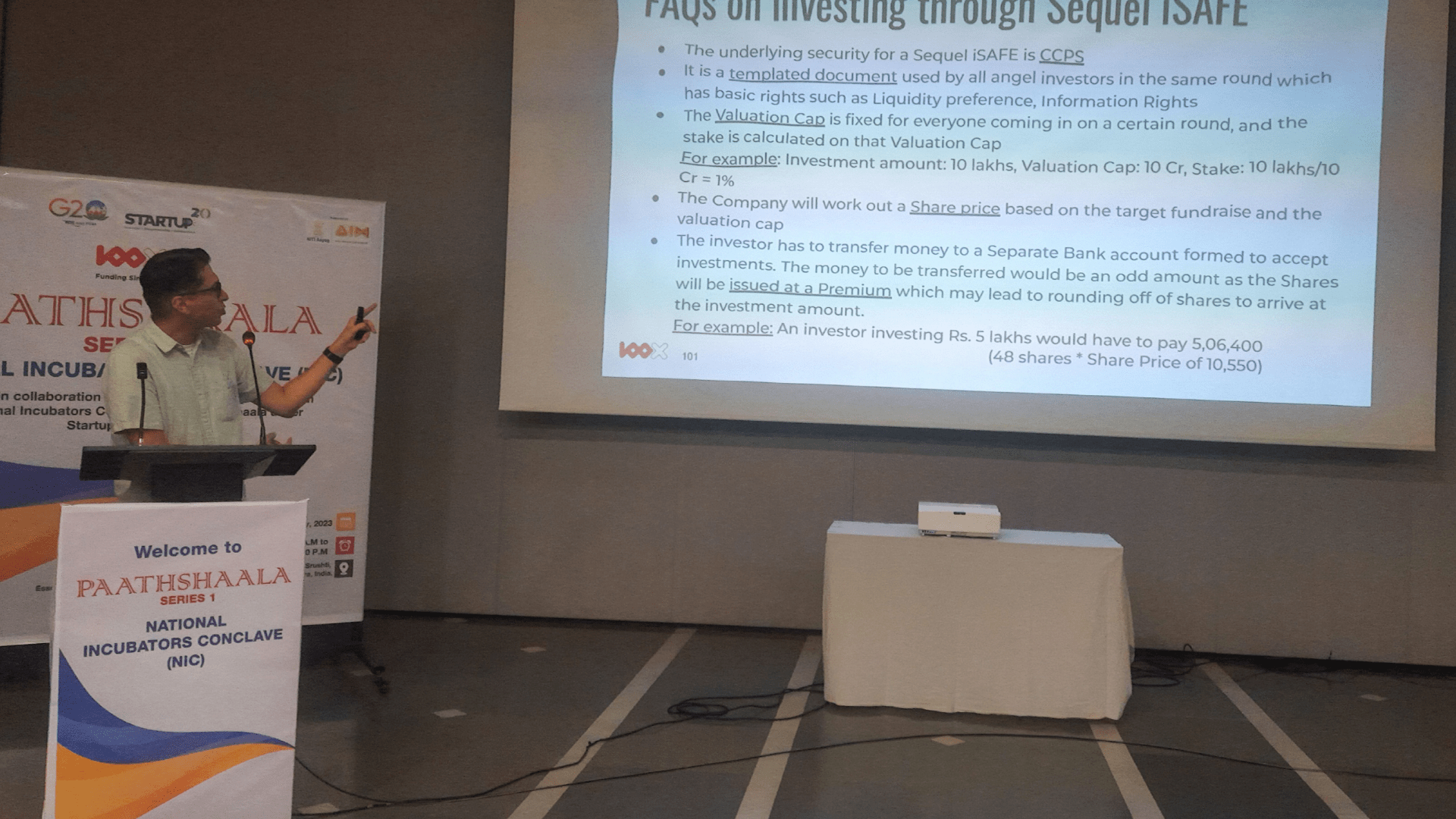 Investing through iSAFE Notes:
Shashank once again took the stage to unravel the secrets of investing through iSAFE notes, providing a comprehensive explanation of the simple to use and execute investment instrument. Participants discovered the flexibility and support iSAFE notes offers to both startups and investors.
Term-Sheet Insights:
Vipul Mehta, the CEO of Tipping Point, delved into the intricacies of term sheets. His session provided valuable insights, unravelling the mysteries behind these agreements. Participants gained a deeper understanding of the nuances involved in startup investments, equipping them with the knowledge to navigate this magical realm.
Financial Sustainability and Entrepreneurial Finance:
Dr. Farzan Ghadially, the Financial Advisor & Mentor at AIC-RMP, shared his insights on incubators' financial sustainability and entrepreneurial finance. 
Closing Remarks and Management Processes:
Arvind Rage, a Managing Committee Member at RMP, brought the event to a close with his captivating closing remarks. He emphasised the importance of various management processes for incubators, unlocking the secrets to successful operations. Followed by Interactive Q&A session with Vatsal, Uday, Farzan, and Vipul. 
Conclusion:
The National Incubation Conclave concluded with a bang, leaving participants inspired and equipped with building  better incubation centres. The two-day conclave provided a platform for incubator CEOs and portfolio investment leads to enhance their skills and expand their network. With insightful keynote talks, interactive sessions, and expert guidance, the conclave propelled participants into the world of startup investments with newfound confidence. The stage was set with the entrepreneurial superheroes ready to move to the next level.